Posed session: $200

What we are most known for, just think of your baby as a work of art with this type of session. This posed style will take place in my studio in Jonesboro, LA and shot during business hours. Family including mom, dad, and siblings are encouraged to come if they can be there during working hours. Many dads and kids need to go back to work/school which we understand and can accommodate by taking pictures with them first so they can return to their scheduled day, then we can focus on just baby shots for the duration of the session.
I always suggest simple for family shots. Anything that is bold or too bright can be distracting from baby. Neutrals like creams, tans, grays are great for timeless photos that can be displayed anywhere in your home. Black and white are good also but I tend to like the softer neutrals for sessions. Muted colors are also a nice touch. I love bare chested little boys with a pair of jeans for sibling shots and it can create quite a cute image! Some parents do not like that look and it is not required. I will have wraps to clothe baby for family shots so no need to pack an outfit for them, clothes for baby in family shots can be too bulky and not very flattering so it is not suggested.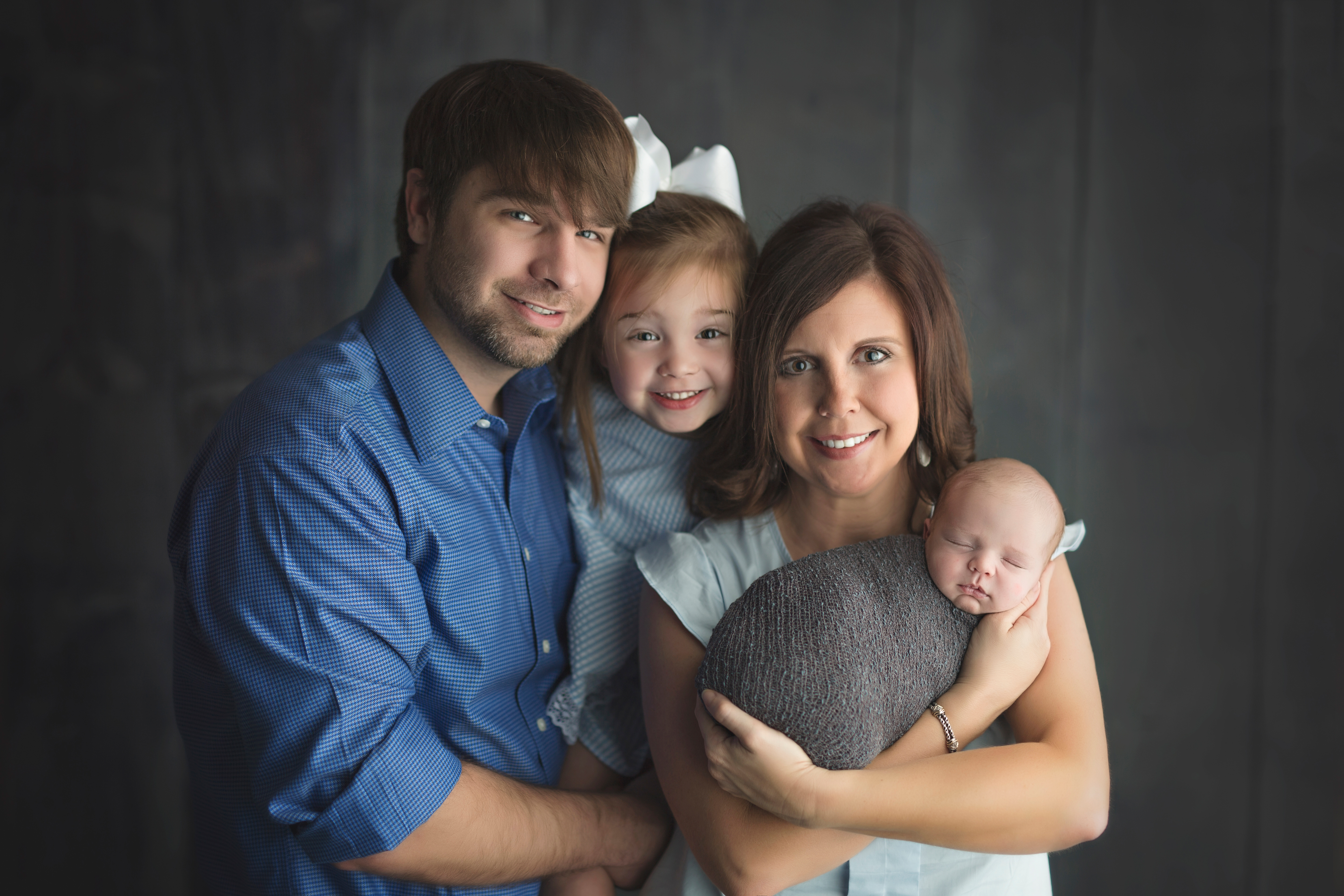 You should expect to arrive at the time of your session. However, much needs to happen at home before you arrive. Baby needs to be kept awake for at least 2 hours, before your session by simulation. Giving them a bath, opening all the windows, anything that you can do to keep baby awake. Make sure baby has full tummy before you arrive (unless you live over 30 minutes away, then you will feed baby once you get here). The studio space is kept at 80-85 degrees in order to keep your baby warm and comfortable. Newborns can lose their body temperature very quickly, especially when unclothed, so we need to assure they are kept warm at all times.
Please know babies pee and poop on everything and you need not worry. I will have plenty of wipes and everything is cleaned thoroughly after each session. There will be white noise playing to soothe your little one. Feel free to sit back, relax, play on your iPad, or take a nap yourself.
What to bring
Pacifier – The "soothie" pacifiers are highly recommended. These have been proven to be most effective in soothing and helping your newborn to latch on easily. Even if you aren't thinking you will want to use a paci, we encourage you to bring one to your session. The short amount of time we will be using one will not affect any habit-forming behaviors for your baby. My goal is to help to keep baby calm during our session and is only used if assistance is needed to capture certain poses.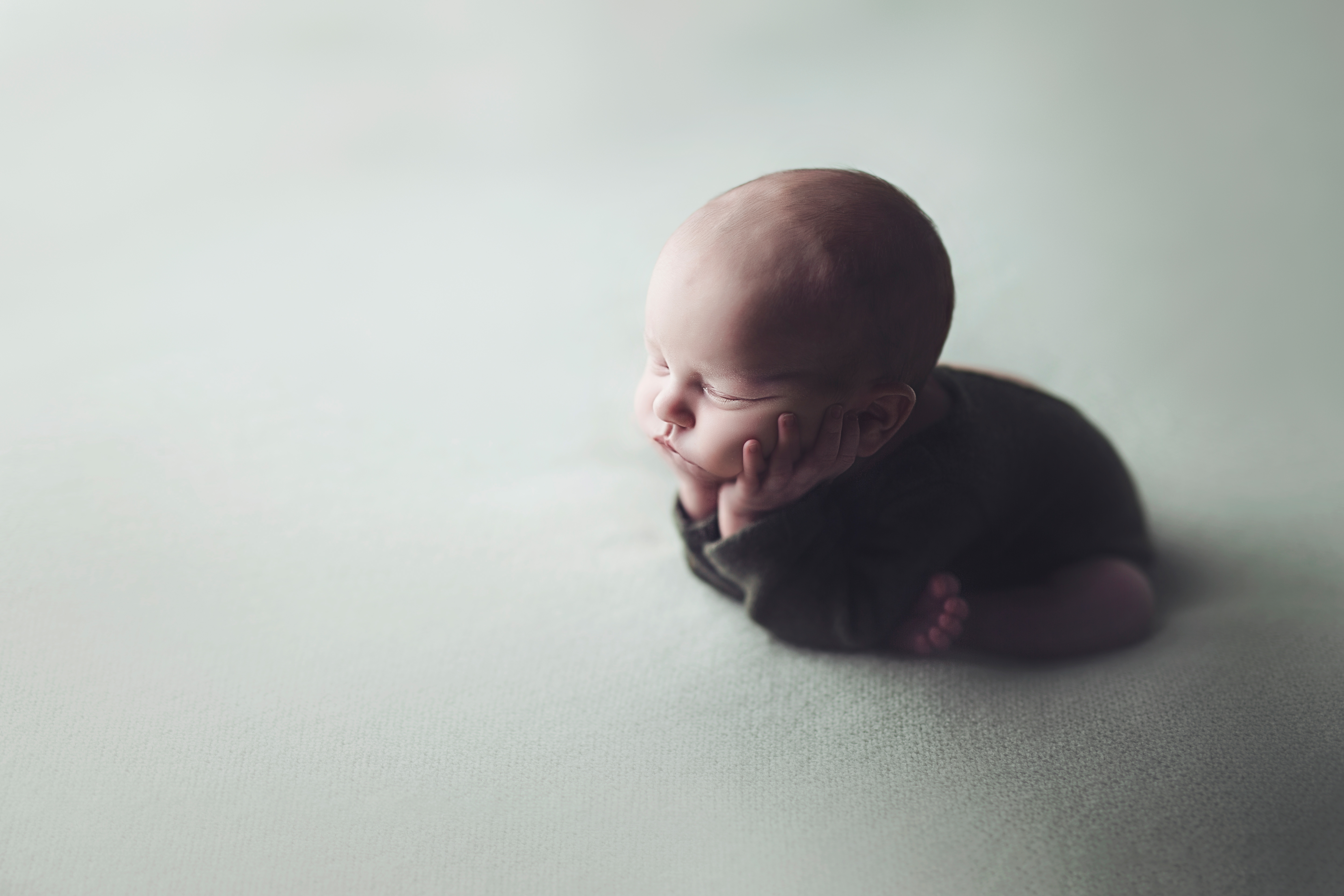 Extra bottles – Whether you are nursing or bottle feeding, having extra bottles and/or milk is suggested. Babies tend to eat more during their session. It's best to be prepared so please bring more then you think you'll need!
Clothing – I will be photographing your baby unclothed. Part of the experience in capturing a newborns is to see their squishy little toes and tiny little bums. Unless you have something sentimental, I ask that you do not bring additional props. I have a multitude of props on hand for use including hats, bonnets, headbands, wraps, crowns, etc. Seriously your baby will have all types of looks and you won't have to worry about bringing a thing. Parents and siblings are encouraged to wear solid neutrals like tans, grey, creams which look best. White or black work as well – please no graphics or prints as these will distract from baby.
---
The best time to photograph your baby is between 7-12 days old.
During this time they are still very sleepy and curly. They don't
mind you moving them around from pose to pose while they dream
the day away. Once they have a full belly and are kept warm, they will generally sleep the entire session.
This is not to say we cannot photograph your baby at any age. Beautiful images can be captured at any stage. However once they have passed that "new" stage, I will not guarantee or consider this a newborn session and you will miss out on the curly aspect of the newborn experience.
Make sure you contact me BEFORE your little one arrives to secure your session. Your session will be tentatively scheduled on your due date. Once your baby is born we will schedule a definite session date. Because of limited space, it can become near impossible to get your newborn in for a session if contacted last minute.
Scheduled during your second trimester of pregnancy
Session can take up to 3-4 hours
Mom&Baby
Dad&Baby
Baby&Siblings
Family
White, black, or neutral clothing advised, but not required
Indoor within my studio space
---
Twins
Did you know a twins session doesn't cost you double? You actually only pay one session fee just like a normal session! We will pose your little babies together and also by themselves.
---
$200 session fee – This fee does not include any prints or products. Fee covers the time and talent of photographer. A $50 non-refundable retainer is due upon booking to schedule and hold your session date/time. A balance of $150 is due a month before the session. Client will have 20-30 edited images to choose and order from for high res images, prints, products, packages, or entire gallery cost.
---
Lifestyle session: $450
Unlike the posed session which is totally staged and perfected this session is totally in the moment and natural. This session is focused more on family interacting with baby. No posed pictures will be taken during this time.



Many instructions given at the posed session will be given for lifestyle to keep your baby calm and sleepy. Siblings are highly encouraged to participate (that includes fur babies)! Not only is family and baby captured, but nursery details will be taken to remember the little touches you put forth in your baby's room.
Scheduled during your second trimester of pregnancy
Session can take up to 3-4 hours
Mom&Baby
Dad&Baby
Baby&Siblings
Family
White, black, or neutral clothing advised, but not required
Taken within your home
$450 session fee – This fee includes the entire digital gallery. A $100 non-refundable retainer is due upon booking to schedule and hold your session date/time. A balance of $350 is due a month before your due date. A travel fee of 50¢ per mile outside of a 30 mile radius to Jonesboro, LA will be charged day of session. Past 120 miles lodging expenses will be charged as well.
_________________________________________________________
Maternity & Newborn PKG – $550

Mini maternity session – 30 minute (indoor or outdoor)
10 high res maternity images
Newborn session – can take up to 3-4 hours
Entire gallery of newborn session as high res images
16×20 newborn print
10% off any additional prints or print products. (excluding high res images)
Locks in your price upon booking
---
*From here you will pick your products or product a package according to your budget and what you want. You can check out here.
If you would to photograph your baby from newborn – one year we have a great whole year package! And you get a complimentary maternity session with your package! Check that out here.