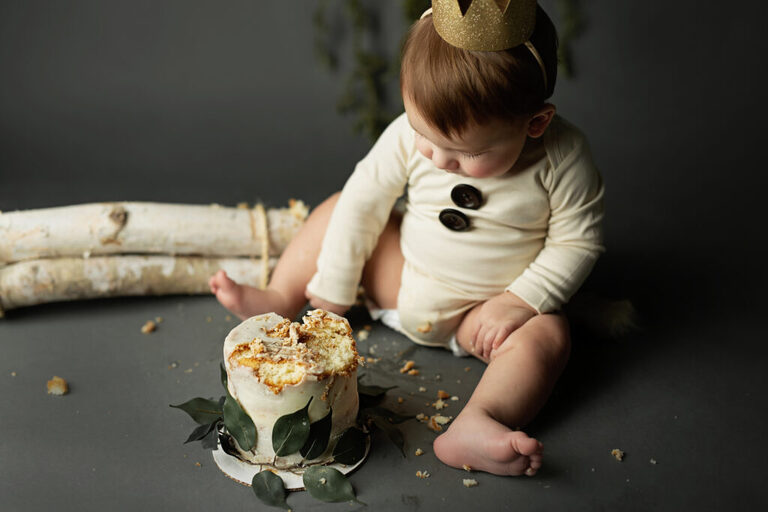 Oh what fun a cakesmash session can be! I think I've told y'all that these are one of my favorite sessions. I love imagining the set, I love making it come to life, I love seeing the cakes come out and the creativity from Social Bites of Ruston, and I love to see those baby fingers dig into that buttery goodness. It's something to celebrate turning one! It's also something to celebrate keeping a human intact for an entire year, can I get an AMEN??? I see a lot of the same themes roll through this place. Themes come and go. I had a streak of "Where the Wild Things Are" sets back around 2015, but they slowly faded from view. It was rather exciting to see mom when she typed those words down for his theme. I remember that book vividly as a kid. I was not a book reader as a kid but my mom would read me books before bed. Seeing as I was attached to my momma's hip, I'd do anything to keep her by my side even a bit longer. Even if it meant sitting still to hear her read. I can't remember at what age I took to reading but now I've come to love it. Back in 2015 when many others were wanting this theme for their sessions, I thought to buy the book for my own daughter. I had forgotten all about it, but that night after I bought it I read it to her and the memories came flooding back. The boy in the book was so mischievous and stubborn. Now I don't know if parents see that mischievous streak in their own children and correlate it to the boy in this book but all I know is it makes a lovely set for pictures. I love earth tones. Warm tones with greens, golds, and creams so this set fulfills all my color needs. Mom had the cake design already picked out and I loved that she picked a simplistic look. It took me years to discover how to photograph a minimalist look. You'd think it'd be easy to shoot, but it's not. I think it's a mental state you have to put yourself in most of all when trying to flip over to a simple style. It's a style that my work has progressed into over time and this set is by far the most simple in studio I've ever done and if I do say so myself was perfect for it's theme. Asher didn't seem to care about it, except for the cake. Although he did care about the crown and not in a good way. We had to do the distraction method to get him to keep from taking it off. Any other parents can relate? Especially with little girls and headbands, am I right?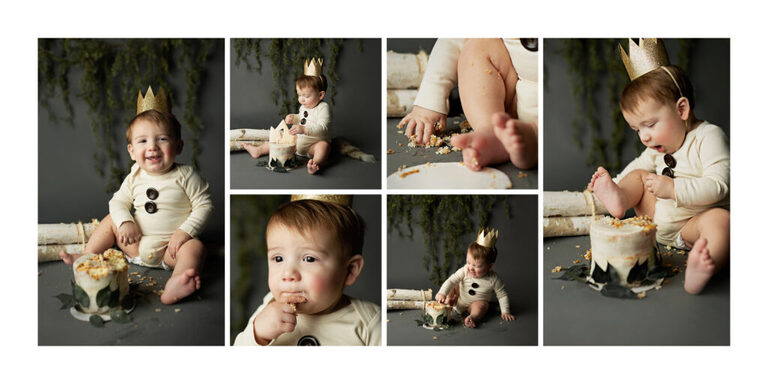 He really did good for his session. I was a little nervous when he came in and we started with some normal shots in his bubble outfit, because he was a little fussy and crawled off immediately. But momma assured me that once he saw the cake he would be fine. She was right, never question a momma and her instincts about her kid. We mommas know our kids inside and out. They may surprise us every now and again, but for the most part we have them pegged. I loved seeing how much this little guy has changed since his newborn session. Does my heart good to see my newborn clients again.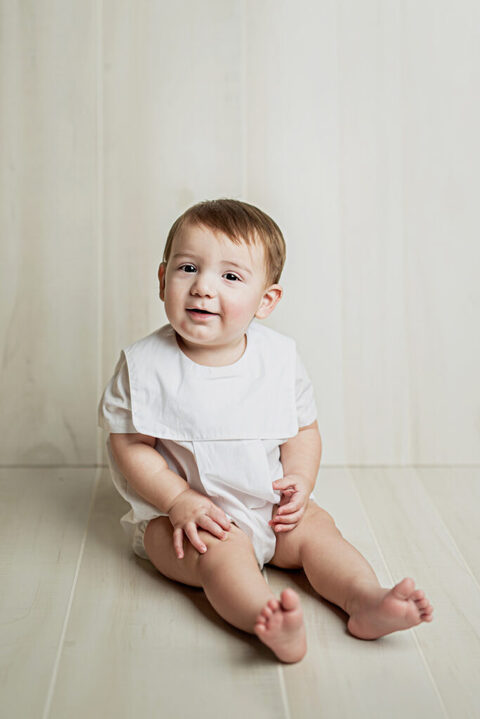 If you're interested in a cakesmash session for your own baby, you can contact me at laven[email protected] or message me on Facebook, just click HERE to be redirected to our FB page.